Mission Christmas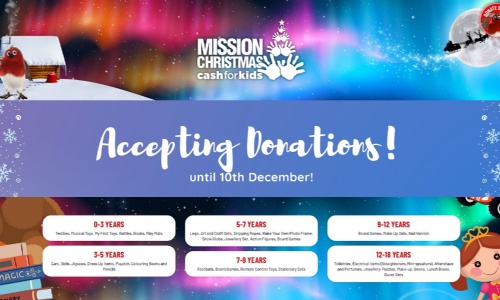 A message from our Head Girl regarding Moorside High School taking part in Mission Christmas - a gift donation drive run by Cash for Kids.
Cash for Kids is a charity that supports children and young people affected by poverty, abuse, neglect, illness and who have additional needs. Their mission at Christmas is to help children that are less fortunate receive presents and experience the magic of Christmas!
Until the 10th of December, we are going to support Cash for Kids in their Christmas Mission. By donating a Christmas present, Cash for Kids will make sure it gets to a disadvantaged child, so they can wake up with a present under the tree!
Gifts need to fit a variety of ages, from 1-18
All gifts should be new or unopened and unwrapped
They should be placed in your House trolley at Reception
Recommended gifts from the Cash for Kids Mission Christmas website include:
0-3 Year olds: Teddies, My First Toys, rattles, books, play mats.
3-5 Year olds: Cars, dolls, dress up items, Playdoh, colouring books and pencils.
5-7 Year olds: Lego, arts and crafts sets, skipping ropes, "make your own" kits, snow globes, action figures, board games.
7-9 Year olds: Footballs, board games, remote control toys, stationery sets.
9-12 Year olds: Board games, make-up sets.
12-18 Year olds: Toiletries, electrical items, jewellery, puzzles, make-up, books, lunch boxes, duvet sets.
For more information about Cash For Kids and Mission Christmas, visit their website here.
The closing date for present collection will be the 10th of December.