Consilium Photography Competition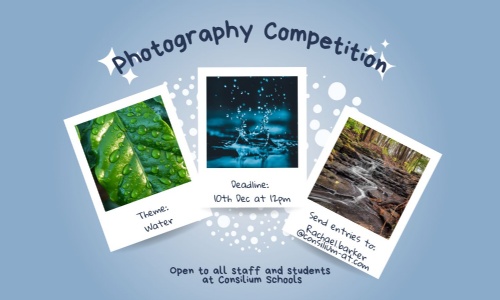 Consilium are hosting a cross-academy Photography Competition with the theme of "Water". The deadline for entries is Friday 10th December at 12pm.
There are no limits to how you chose to respond to the theme of water, be creative in how and where you capture your shots. Think outside the norm, experiment and have fun!
Prizes for 1st, 2nd, 3rd best entries judged by a professional photographer and all entries will be shown in an online exhibition.
This competition is open to all pupils and staff from Consilium Schools. You can submit up to three photos. Please include your name, age, school and a short description of your image with your entry.
Please submit your entry to Rachael.Barker@consilium-at.com by Friday 10th December at 12pm.
Good luck!