Behaviour For Learning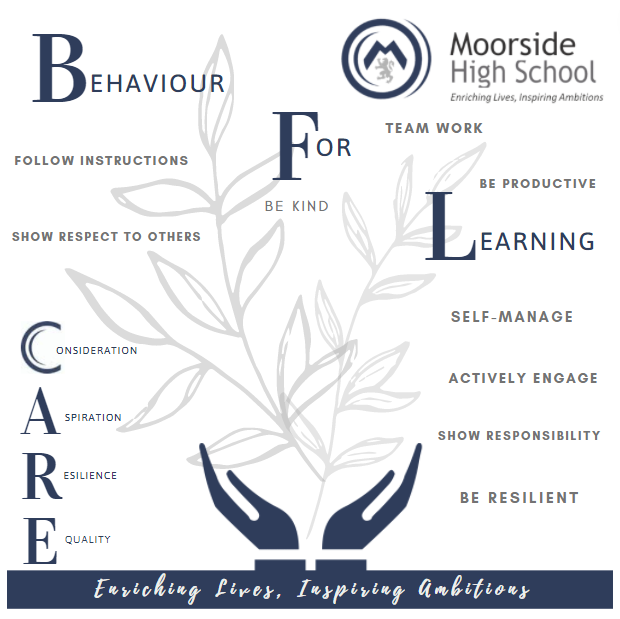 Behaviour for learning is our whole school system for reducing disruption in the classroom and on corridors in order to improve the quality of learning and teaching and to create a safe and happy environment for all students, staff and any other person associated with the school.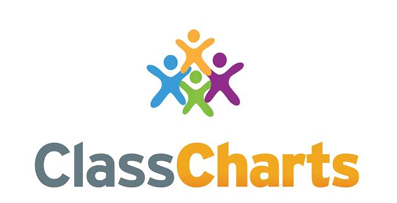 From September, we will be using an exciting new system to keep you up to date with what is going on in school every day. Class Charts provides 'live', information of your child's experience at Moorside High School, including:
Achievements and rewards
Latest announcements from school
Notifications of behaviour consequences
Your child's attendance record
Your child's timetable and class teachers
A letter has been sent home which provides instructions as to how to download the free Class Charts app, including a unique parent pin formation. Please download the app/sign in to the website as soon as possible. There is a competition between forms in each year group, for the first form to get 100% parental sign up!!
Support
If you need any help or support with the Class Charts App, please click here to download the Parent Guide.
All members of our community have the right to learn – anyone who disrupts the learning of others or behaves in a way which is disrespectful, stops other being safe, healthy or enjoying school can expect to receive a consequence.
Objectives of the behaviour for learning grades
To support the quality of learning
To reward students for good behaviour
To ensure a consistent approach to discipline throughout the school that is clearly understood by staff, students and parents
To help students learn that their behaviour has consequences
To teach students how to behave appropriately, both in and outside school
To reduce behaviour that has a negative effect on learning
To develop personal responsibilities for acceptable behaviour
Students need to be made aware that they make a choice when deciding how to behave; positive behaviour will lead to rewards, negative behaviour will lead to sanctions. All students will receive a 'Behaviour for Learning Grade' in each lesson.
'Students determine the consequences by their choice of action'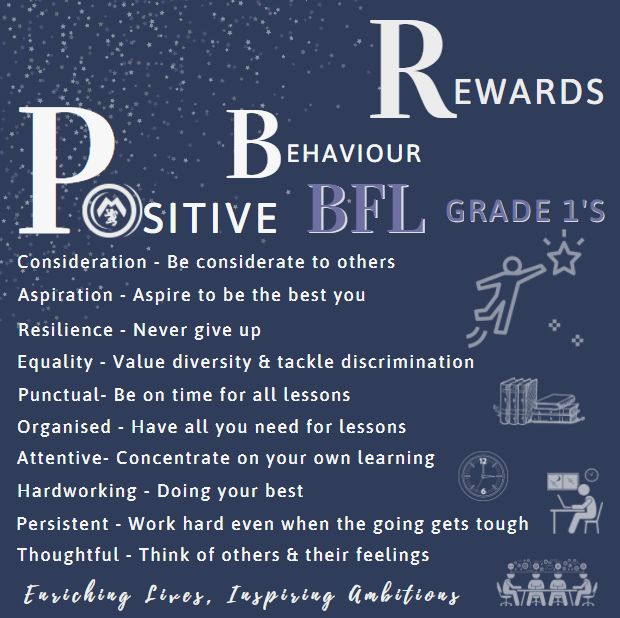 Behaviour for Learning Grade
Description

1

Outstanding Behaviour – The expectation for all 'Team Moorside' members

Pupils make every effort to ensure others can learn.
Pupils actively engage in the lesson, often exceeding expectations.
Pupils self-manage their behaviour and actively support their peers.
Pupils are aware of safety and actively manage the safety of others

2

Grade 2 - Good (Minimum Expectation)

Students show respect and dignity to staff and students.
Students follow instructions quickly, without question.
Students are polite and show responsibility for their own behaviour.
Time is used productively within the lesson.
Students are aware of the health and safety of others.

3

Grade 3 - Class Teacher Detention

Low level disruption.
Minimum behaviour expectations are not met.
Time is wasted as a result of being off task.
Any warnings given are not acted upon.
Students lack attention and focus is easily lost.
Students are slow to respond to instructions.
Respect towards others is not evident.
Homework is not to the required standard.
Late for a lesson

4

Grade 4 - Whole School Detention

Student is exited to a 'Good Neighbour'
Persistent non-compliance.

5

Grade 5 - Reflect and Repair

Refusal to comply – On Call.
Our 'Expectations' at Moorside High School:
At Moorside High School we expect you to:
Be respectful, tolerant and courteous towards others
Be conscientious and diligent
Always strive to fulfil your potential
Be reliable, responsible and well-behaved
Be smartly dressed in school uniform
Be respectful of school property and the property of others
Remember that you are a member of the Moorside High School community and that your attitude and behaviour should reflect this at all times.
You should never:
Disrupt the learning of other pupils
Bring dangerous objects or materials in school
Bring offensive or inappropriate material into school or attempt to access such materials in school
Engage in stealing or vandalism
Engage in violent, dangerous or anti-social behaviour
Have in your possession smoking materials, alcohol or non-prescribed drugs at any time while associated with the school
Engage in bullying behaviour
All these expectations also extend to your behaviour online and when using electronic devices, including mobile phones
For more information around our 'Behaviour for Learning' at Moorside High School, please visit our Policy section for the Behaviour for Learning policy.