KS4 Guided Pathways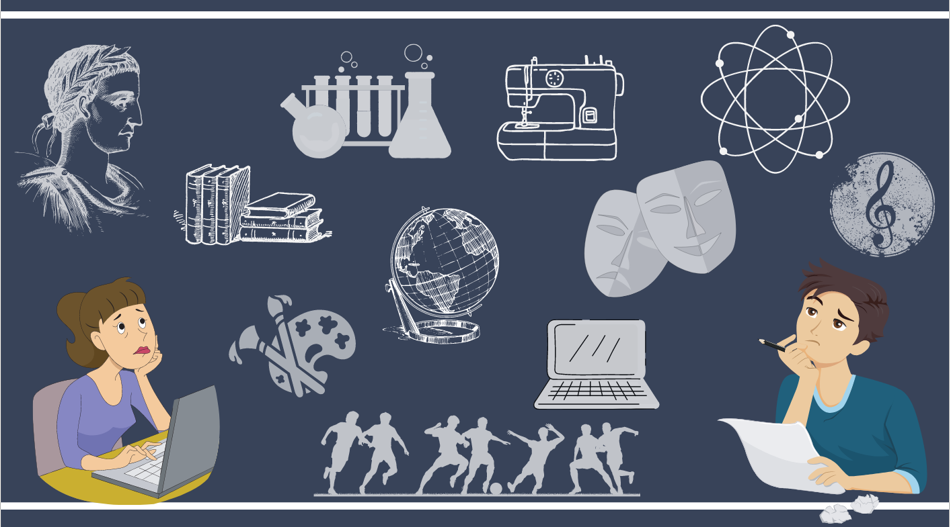 At Moorside High School, we have many minds but one clear mission – to be unwavering in our demands for academic excellence. Our core purpose is to ensure that every student leaves us ready for their next successful chapter, with our students attending college or university or starting a fulfilling career. Our aim is to enrich lives and inspire ambitions to ensure students thrive in the world around us.
Now you have reached Year 9, it is time to make some decisions about further study at Key Stage 4. Hopefully all the information you are provided with, will support you in making some informed choices about the subjects you will study in year 10 and 11.
During your time in year 7, 8 and 9 Moorside High School has provided you with a rich and varied curriculum. In Key Stage 4 (Years 10 and 11) although there are some subjects that you will be required to take, there is now an element of choice in order to allow you more time for subjects to be studied in depth. Please take time to read this information and discuss your option choices with your parents/carers and teachers, to ensure you are making choices that you will have an interest in studying for the next two years.
This is a really exciting part of your educational journey, and we look forward to continuing to see you grow and develop in to well-rounded, socially responsible young adults.
Mrs H.Ryles-Dean
Head of School
Guided Pathways Choices Booklet
This booklet contains details of all the courses available at Key Stage 4. It is designed to help students, parents and carers understand the option choices and to enable students to make fully informed decisions. The choices students are going to make are extremely important and should be in consultation with parents/carers, teaching and pastoral staff. Mr Farmer, our Careers advisor is on hand to offer support alongside the Head of Year 9.
The Guided Pathways Choices booklet is available to view here.
Guided Pathways Choices Form
Key Dates
W/C 7th February 2022 - Options Assembly week for students
8th February 2022 - Options evening videos available online (link to be texted to parents)
15th February 2022 - Year 9 Parents' evening (Remote via School Cloud)
17th February 2022 - Deadline for the return of the Option Choices Form
At these events we hopefully enhance the information you already have, and will enable you to make well-informed decisions for your option choices for Year 10 and 11. It is important to note, choices made at Key Stage 4 can form and facilitate the basis of further study or training at Key Stage 5.
The Choices process has been designed to maximise choices without restricting potential subject clashes into separate option blocks. Once all the options choice forms are collated on the 17th of February, the curriculum team will work over the coming months to ensure wherever possible students will be able to follow their first or second choices.
The final option subject choices will be confirmed in the summer term.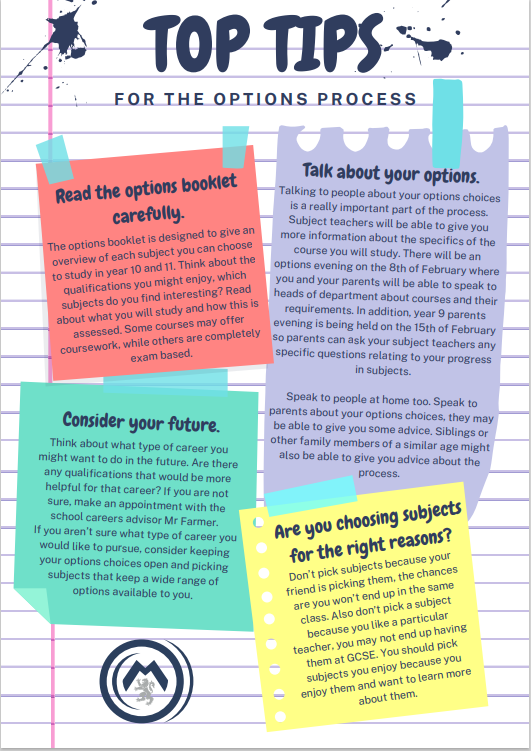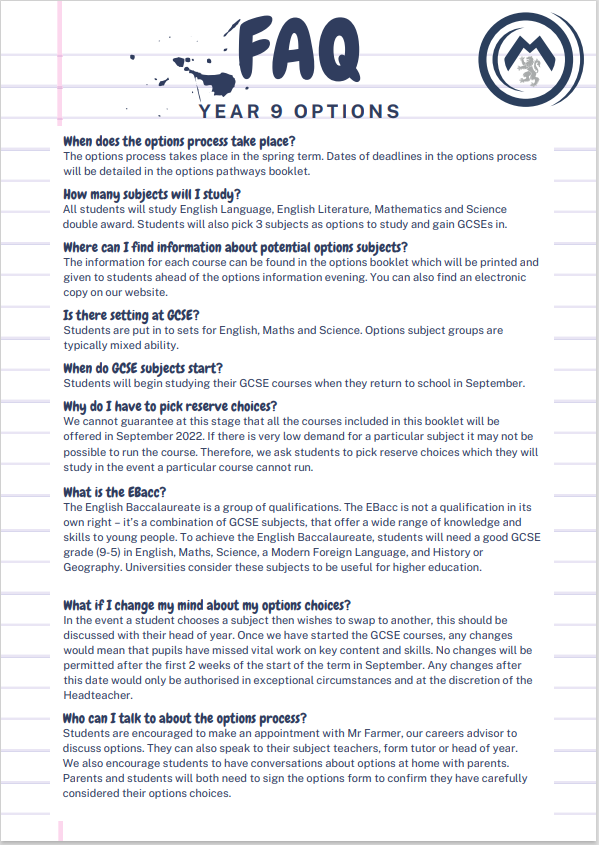 If you require any further support or guidance, please do contact your child's Head of Year or our Transition Co-ordinator.
For further support around career choices, please click below to visit the careers' section on our website.