Rewards
The school's ethos of encouragement is central to the promotion of positive behaviour for learning. Pupils thrive on positive praise, encouragement and recognition for their hard work and efforts. Staff endeavour to be consistent in the application of our behaviour policy and this enables us to build mutually respectful relationships with the students.
By being preventative, rather than reactive, staff work hard to develop positive relationships with pupils. The culture of recognising positive behaviour and achievements is also vitally important to achieving our core purpose to ensure every student leaves us ready for their next successful chapter, with students attending college/university or starting a fulfilling career.
We like to recognise students' achievements throughout the year, both formally and informally.
We have a range of rewards, such as:
Behaviour For Learning points
Praise Postcards
Celebration Assemblies
House Points
Headteacher's Award
Reward trips
Subject and contribution to faculty awards
Rewards Pyramid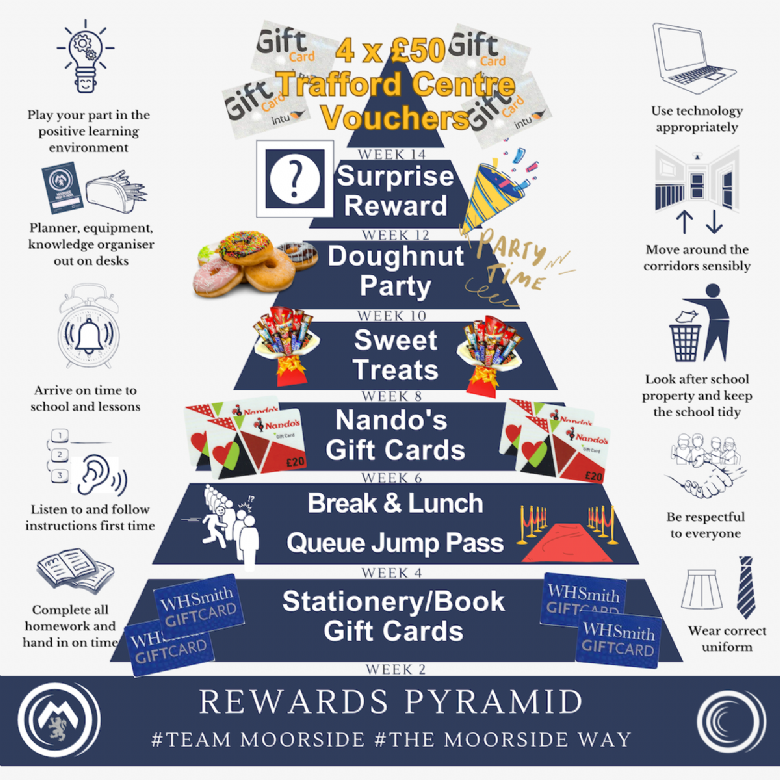 The Leadership Pathway
Our Leadership Pathway provides opportunities for you to get involved across school and be recognised for your achievement. Students can work their way up and be rewarded with a certificate and badge.
At each level, students must complete 5 activities from the list in order to achieve the award - these lists can be found in the student planner. Form Tutors or the member of staff running the activity will sign off the activity on the Pathway record. To achieve the higher awards, students must also complete 2 of our C.A.R.E value activities
Students wear their badges with pride and show great aspiration when working through the activities.