Uniform
Moorside High School Uniform
All pupils are expected to wear full school uniform which can easily be purchased from any supermarket or high street stores, with an exception made for schools' blazers and ties which must have official school branding. Blazers and ties can be purchased from Whittakers of Swinton, McLellan Clothing, or direct from at Trutex via a catalogue.
Please click here to view information on the September 2022 uniform changes.
If you have any questions regarding the uniform changes please contact our Consilium Academies Central Team on 0161 639 0985 or contact@consilium-at.com
Compulsory uniform
School blazer with school logo to breast pocket.
School tie.
White shirt (long or short sleeve with collar).
Either black tailored trousers or navy knee-length skirt.
Black polished shoes
Outdoor coat - dark colour without large logos
Black tights or white plain ankle socks with a skirt.
Black ankle socks with trousers.
Optional Item
V-neck, navy blue jumper with red stripe on the V-neck
PE Kit
Plain Navy blue polo shirt (no logos or branding)
Plain Navy blue shorts or skort. (no logos or branding)
Plain Navy blue knee-length socks
Optional Items
Navy blue polo shirt with white piping.
1/4 Zip Training top
Reversible sports top.
Track pants
Leggings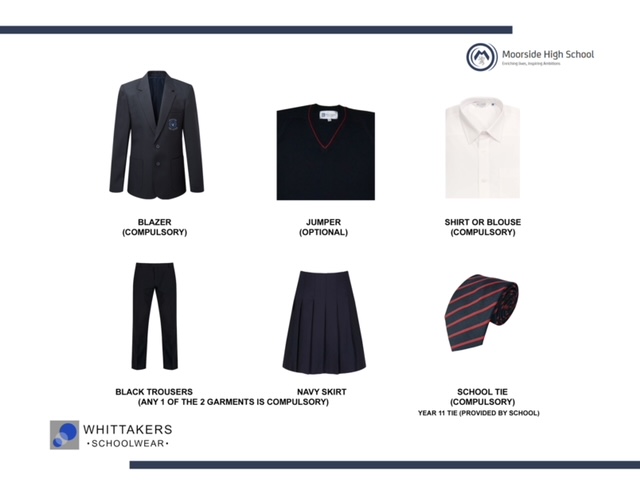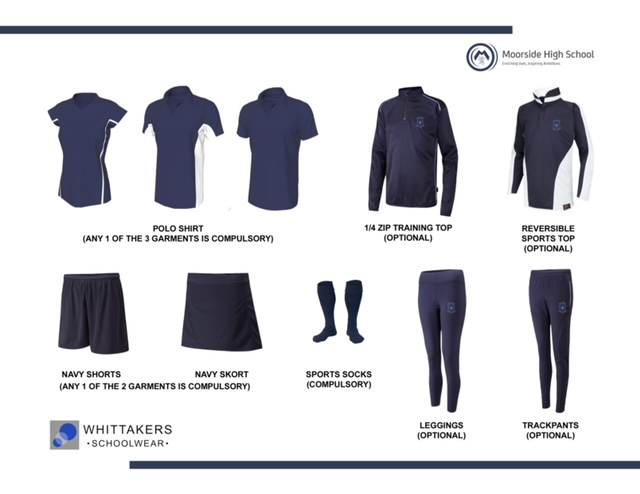 Uniform Policy
Full school uniform is to be worn to and from school and at ALL TIMES in school.
All girls who wish to wear a skirt must only wear it at a modest length. Skirts must be no shorter than 3" above the knee.
Girls are not allowed to wear over-knee socks or leg-warmers.
Your shirt/blouse must be tucked into your trousers or skirt and buttoned to the neck. Only school related badges are to be worn on your blazer lapels. Coloured or visible t-shirts or undergarments should not be visible.
The sleeves of your blazer must not be pushed or rolled up.
The cuffs of your jumper must not be pulled or rolled down below the sleeves of your blazer. Shirt or blouse cuffs must not be turned up over your blazer.
When the weather requires an extra layer, a scarf and an appropriately smart dark coat or anorak with no large logos may be worn over the school blazer. Coats are not permitted in the building and will be taken off students until the end of the school day if they are seen wearing them indoors.
Hoodies and tracksuit tops are not permitted in school and will be taken off students until the end of the school day if they are seen wearing them indoors.
Trouser bottoms must not be tucked into socks.
Jewellery of any description is not encouraged and is not practical for many reasons. Bracelets and charity bands are not permitted. Piercings: Boys and girls are allowed to wear one stud earring, only in the lobe of each ear. All Jewellery must be removed for PE activities and is brought into school entirely at the student's own risk. No nose, lip, eyebrow, tongue or stomach studs or piercings. Clear plastic retainers are not permitted. Students will be required to remove any items of jewellery which contravenes this code; they will be confiscated until parents collect them from school. If you do decide to allow your child to have additional piercings, please ensure that they are removed for school.
Hair should be neat and conventional with no extremes of style, tramlines, beaded additions, extensions, top-knots, or colours that draw attention, no haircuts shorter than a grade two.
No unnatural hair colours.
Discrete make-up only. No false eyelash extensions. Eyebrows should look natural. Students will be required to remove excessive make-up.
Nails must be short and unadorned. No false nails, gel, extensions, or jewels. Clear nail varnish only may be used.
Students should be clean-shaven.
No visible tattooing is allowed.
Plain black or plain navy hijab (if required).